Two suspects are believed to be behind "disturbing announcements" heard on a service to Vienna
Austrian railways have been hit by a string of offensive broadcasts on passenger trains, with the latest incident occurring on Sunday when "Hitler speeches" were blared through the loudspeakers of a service running from Bregenz to Vienna.
Footage of the episode was shared on Twitter by Green MP David Stogmuller, who happened to be on board at the time. The messages were initially "completely meaningless" and even "funny," before abruptly switching to a speech by Hitler. In the video shared by the MP, the "Sieg Heil" salute can clearly be heard in the background.
Gerade wurde im RailJet 661 mehrmals "Sieg Heil" rufe durch das Lautsprechersystem ausgestrahlt! Die Zugbegleiterin komplett hilflos @unsereOEBB ich hoffe es erfolgt Anzeige und schleunigst Aufklärung! pic.twitter.com/S8kx5ZnnpZ

— David Stögmüller (@Stoegmueller) May 14, 2023
"First completely meaningless stuff, even funny stuff and suddenly a Hitler speech and shouts of salvation. It was pretty disturbing. The train attendant didn't know what to do," Stogmuller wrote. 
Austrian Federal Railways (OBB) acknowledged the issue, stating it was aware of "disturbing announcements" while "clearly distanc[ing]" itself from the content of the messages. The operator promised to find the cause of the "technical faults" as soon as possible.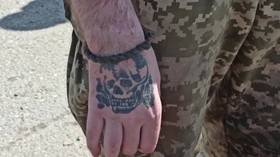 OBB provided an update on Monday, stating that "we can currently assume that the announcements were made by people directly on the train via intercoms." The company said it had reported the incident to the police, while the two suspects had been already tracked down after analyzing surveillance footage recorded on board the train.
The two suspects, who were not named, were charged with broadcasting Hitler speeches, Austrian news agency APA later reported. It was not immediately clear whether the suspects were taken into custody. In Austria, spreading Nazi propaganda is a criminal act.
Two similar incidents were reported in the country last week, with irregular announcements played on board trains. The same suspects are reportedly believed to have been behind the messages, although it was not immediately clear if the other incidents had involved Nazi slogans.
You can share this story on social media: