The collapse of the Russia-Ukraine grain deal could trigger food shortages in African countries, Deputy PM Antonio Tajani warned
The potential collapse of the UN- and Türkiye-brokered grain deal unblocking Ukrainian agricultural exports via the Black Sea could trigger a new stream of migrants fleeing to Europe, Italian Deputy Prime Minister Antonio Tajani warned in an interview published on Monday.
Speaking to Italian daily il Messaggero, when asked to give his take on what could happen if the landmark agreement fell apart, Tajani replied that it was "a scenario that we do not want to consider."
"The lives of millions of people in poverty are at stake. A crisis would arise in the countries of central and sub-Saharan Africa which, together with the war in Sudan, risks activating a very dangerous migration spiral," he said.
Should the grain deal be allowed to lapse, this would cause a food crisis in vulnerable countries, prompting a new migration flow, the deputy premier predicted, adding that Italy has made several steps to prevent such an outcome.
Tajani said that he himself had reiterated to the UN that the agreement "must remain alive," while Rome made it clear to Ukrainian President Zelensky that sustaining the grain deal was one of its priorities. 
"We trust in the independent mediation of Türkiye" on the issue, he added.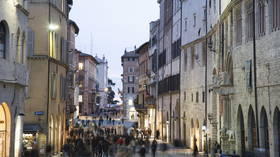 Initially concluded in July 2022, the grain deal allows Ukraine to transport agricultural products via the Black Sea in exchange for Russian grain and fertilizers gaining unimpeded access to global markets.
However, Russian officials have repeatedly complained that while the part of the deal paving the way for Ukrainian grain exports is being implemented, Western sanctions are impeding the shipments of Russian agricultural goods.
Despite those issues, in March, Russia agreed to extend the deal for 60 days, making the expiration date May 18. With the deadline approaching, Russian Deputy Foreign Minister Sergey Vershinin recently warned that the agreement could lapse unless the UN enabled the export of Russian grain and fertilizers.
On Monday, Ukrainian Acting Minister of Agrarian Policy Olga Trofimtseva admitted Kiev cannot rule out the prospect of the deal ending on May 18, adding that no additional talks have been planned for this week.
You can share this story on social media: